What Is The Importance of Gold in ESO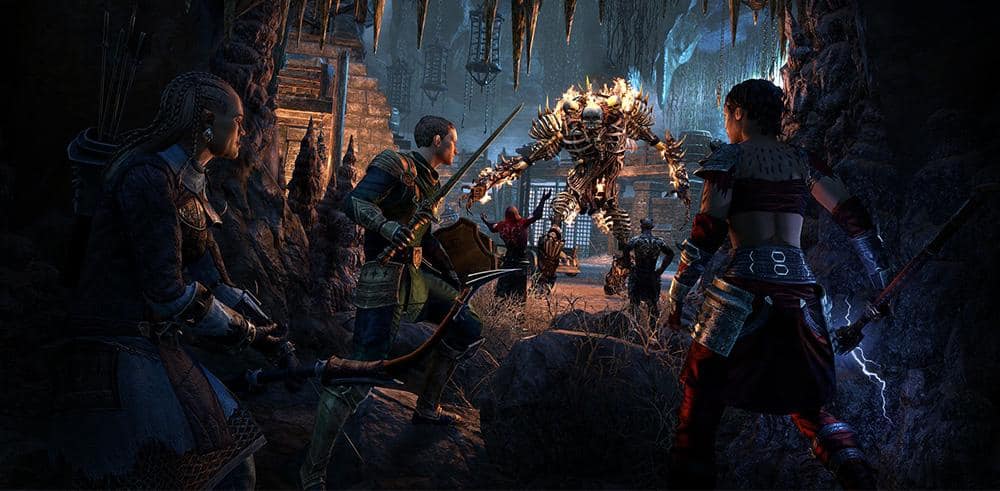 These reasons include increasing inventory, purchasing mounts, investing in new equipment, repairing gear, upgrading weaponry, and contributing to a guild. So Gold holds an essential role in ESO for several reasons.

Being able to do the hard work when it comes to beating monsters, completing quests, and travelling around the land is a good way to earn an income but there are other ways of adding to your gold. This is why it's important to plan properly and understand what's required as you look to get richer.
Weapon Drops
Deconstructing weapons can lead to a good amount of gold as you gain experience and sell materials to a merchant or other players.
Quests
It starts with the quests as you look to earn gold.
You can easily earn gold as soon as the question is completed. This includes having to beat enemies that pop up in these quests. You can end up receiving more gold by picking it up as enemies drop it. Along with these options, you can also look for treasure chests around the area.
Killing Enemies
If you are spending time on these quests, you will start to notice an uptick in the amount of gold under your name. This starts to grow faster as you find containers, attack enemies, and pick up items.

The gold will go a long way in helping throughout your adventure whether it's repairing gear or purchasing new equipment. The beauty of facing up to new enemies is the likelihood of picking up jewelry, equipment, scraps, and glyphs.

You should look to find these enemies because gold is an easy way to grow your collection. It will start to increase quickly as you spend more time finding enemies and beating them.


Human enemies are known to drop gold along the way.
Containers
As you start to enter the VR1-VR5 zones, you will notice Primal and Barbaric Racial Motifs. In the VR6-VR10 zones, you will see Imperial, Ancient Elf, and Daedric Motifs. For the rarer ones, you will end up making quite a bit of money including up to 400 gold.


With drawers, pots, nightstands, cupboards, desks, and other types of containers, you can pick up ingredients or recipes with ease. This is a great way to pick up items that are known to be valuable. You will also notice normal Racial Motifs in particular zones in the area.
Chests
With treasure chests, you will want to unlock them because they are often filled with gold. This makes them wonderful as you look to pick up a good amount of wealth through these chests. However, they can also include other valuable items such as glyphs.
Exploration
when it comes to locating containers, treasure chests, and/or raw materials,This is a sizable topic and it's important to understand the benefits of exploration in Tamriel
Glyphs
When you start to locate high-grade glyphs, you can sell them for a large amount. Players like buying them to level up.
Ingredients
Whether it is mushrooms, flowers, or plants, you can sell these materials to other players as they look to make new potions. You will want to look for ingredients such as Columbine, Bugloss, Lady's Smock, Corn Flowers, and Mountain Flower because of their demand on the open market.
Raw Materials
With raw materials, you can end up earning more than you would with refined materials. Most players want to pick up raw materials and refine them on their own for crafting experience and the resulting upgrades. This is why picking up raw materials is a good way to build up your collection before selling it off to another player.
Justice System
The items that a player can steal will depend based on what's out there. Some items can go for 50 gold, while the larger "purple" items will end up going for up to 600 gold each. This demonstrates the value of trying to loot players and/or corpses.
Yes, the Justice System is a must when it comes to earning gold in Eso!
Ever since Patch 1.6.5, being able to steal and pickpocket has become a way to find unique items, which can then be sold to someone else on the open market.
Crafting
You want to start to produce food, potions, drinks, weapons, and armors to sell them forward. An example would be Tri-Pots because that's where the demand is when it comes to food, drinks, weapons, and armor. Other players are always on the lookout for these items as they try to improve their collection.


ESO players have to learn the art of self-sufficiency, which is why crafting experience is a must. It can come through managing ear, glyphs, and potions because the market is filled with demand for these items. Anyone that is looking to level up will want these items in their possession.


When it comes to earning gold, you will want to keep one eye on crafting because of its overall value.
Remember, there comes a time when a Bounty will be set up due to your actions. They are going to set the bounty and when you are caught, they will expect you to return the stolen items and pay a set Bounty. The only way to keep the items is to speak with the Fence to make sure it is laundered through as soon as you are caught.


A lot of players want to level up to Enchanting and that's not easy, which is why players try to locate certain glyphs for new weapons or armor.
If you manage to focus on Zone Chat, you will notice a stream of requests for specialized items. You can look through this chat and see whether or not you have specific items that can be sold.
These are the various ways of grabbing
eso gold 
mats if you need them.
F2FGold
is an awesome ingame currency seller they are 100% Safe, Trustworthy and Always have Cheap prices if your in need of some
eso gold 
to help you out on getting your materials or even want to buy materials from them you can do that too! They also give back to their customers by entering them in a Lucky Gold draw at the end of the month for a chance to win someFree
 eso online gold 
!
Good luck grinding out there !
Our Guarantee
Best Price
We always try to offer our customers a better and reasonable price instead of obtaining huge profits. We will try our best to keep the price steady and a lower level.

100% Satisfaction
Excellent service and reasonable price are always the symbols of f2fgold. To offer what customers need and to solve problems what they worry about are what we have been doing over the years. We do and do it well.

100% Safe
Excellent service and reasonable price are always the symbols of f2fgold. To offer what customers need and to solve problems what they worry about are what we have been doing over the years. We do and do it well.
Refund
We offer a 24-48-hour refund guarantee if your orders can not be proceed for some reason to protect our customers' online legal rights.
Help Center
Why Choose Us?
Friendly Service.

f2fgold has a professional CS team who works 24/7.We offer humanized service to all our customers. Being professional and patient is our feature.
Security Assurance

All the products we offer are handmade,we choose our suppliers carefully.We always offer the safest methods to deliver.
Refund Guarantee

We offer a 24-48-hour refund guarantee if your orders can not be proceed for some reason, we always protect our customers' online legal rights.
Speedy Delivery

If you can see the stock on our website, that means we are in stock at that time. Most of orders can be finished within 1 hour in that occasion.